Now there are two proven technologies to address "the stopping thing" at both ends of the inline skating skill spectrum.
My generation of serious alpine skiers can get pretty serious about  cross-training on inline skates. In fact, that is now a sport unto itself known as "Extreme Downhill." The Orbit newsletter has featured guest posts from two of my buddies who compete, George Merkert (what it feels like) and Scott Peer (what protective gear to wear).
Meet Craig Ellis, another avid skier and inline brake system inventor. Both George and Scott are raving about his Gravity Master(TM) inline brake, which I hope to test myself soon. Meanwhile, here are some tantalizing links to tickle your interest as they have mine:
Craig Ellis has been writing progress reports to me as he promotes his technology wherever he can find the opportunity.
"I now have one US Ski Team member actually using the DH skates. "Sweet setup" was how he described them after skating them for the first time.
"I went to the SIA (Snowindustries Association) show in Denver last week, mostly as a marketing trip and to make sure I am on the big OEMs radar. Rollerblade helped coach me a bit in advance of the show. All of the K2 Skate guys came by several times, the Roces crew tested the skate and immediately wanted to borrow a skate to send pics to Italy. One of the largest (perhaps THE largest) online distributors wants to carry the brakes this Spring, as soon as I can get the inventory built.  I am working feverishly on putting that together now…and when I do, I will have a pair of brakes to send to you for testing (finally!)."
Here is the sweet setup he's talking about. Unlike the virtually invisible DXS brake technology, this system is out there in more ways than one.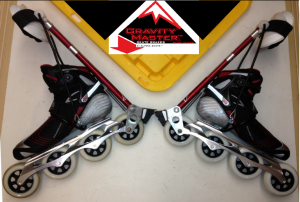 Regular readers know I actively promote another technology named (as it has evolved) the 4Wheeler, 4XS and now the DXS disk braking system (a 2Wheeler option is now available). With the DXS geared toward novice and youth skaters, and the Gravity Master aimed at the high end, it's a no-brainer for me to try and help both Craig and Alex Bellehumeur promote their systems to the inline manufacturing industry for licensing.