Friday: Despite temps in the low 40's it is beautiful weather here. Dan and I expect to ski for the next 3 days because there's plenty of snow. With daylight saving time, the days are long and the skiing ends early, leaving lots of time for other outdoors recreation. The night life here is just as fun as the day life.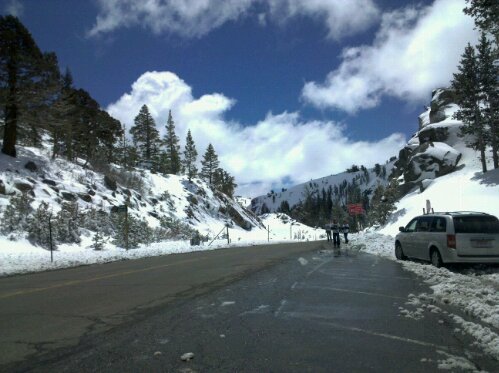 Here is a Droid shot of Highway 88, west of Carson Pass. We spent less than six hours on the drive across the Central Valley and over the Sierra Nevada range. It would have been five if the higher passes weren't still snowed in, preventing us from driving through Yosemite. Two thirty was an early enough arrival to go skating, but today we preferred to sit on the condo deck in the sun and sip wine. It is still mostly sunny but it was also snowing just moments ago.
Guess what? I am dictating the first draft of this post on a Motorola Droid smartphone. This mountainous setting is truly captivating, but new, possibly life-changing technology is too. But the battery is getting low.
Saturday – We awoke to cloudless blue skies and no wind, a great combination for skiing fun. After a light breakfast we headed up to the mountain. With 3 day passes attached to our ski pants, we stepped onto squeaky-dry snow at 8:15 am.
We decided to start the day at Chair 5 which took us to a high ridge with soft, fresh powder and some was still pristine! What if somebody else got to that fresh powder before I could make the first tracks! I was shocked to find myself feeling powder rage on a spring morning on Memorial Day weekend. There was so much snow that even some of the expert chutes were easy to ski! We couldn't believe our good luck, a sentiment echoed by others we shared the gondola rides with during our morning exploration.
After a sunny lunch with singalong rock blaring loudly, we returned to the slopes and skied several more excellent runs. We quit when the chairs stopped running at 3 pm and enjoyed a celebratory beverage as our tribute to a great day.