On Sunday morning we carved turns on the east-facing corduroy groomed slopes until the surface became perfectly buttery. By 9:30 it was beginning to ripen all over the mountain, and the next two hours were "magic time" where every turn made us feel like the best skiers in the world!  We continued to follow the sun as it gradually softened the hard snow on the western slopes of Mammoth Mountain. By early afternoon, it finally became too soft to be enjoyable and we decided to quit so we could save our legs for more fun on Monday.
After we returned to the condo we grabbed our skates and went out for a quick roll to an overlook on the outskirts of Mammoth Lakes, where the snow-capped Sierra Nevada mountains spanned the horizon in all their glory. This town has an excellent trail system, serving walkers, cyclists and skaters.  See more skate trail info on CASkating.com.
Next stop was Wild Willy's mineral hot springs, a favorite of locals and visitors alike. Unfortunately, the secret is out and this small pool is attracting larger and larger crowds, at least on the holiday weekends. But we got lucky and spent an hour hearing other peoples' stories as we sipped wine from plastic glasses.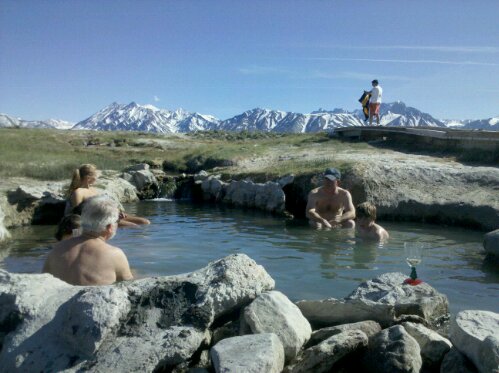 Back in town we got cleaned up and stumbled upon a tiny place where we enjoyed a surprisingly sumptuous Mediterranean-style meal. Despite a table of 20 young women who arrived half an hour after we did, the service was  friendly and excellent through the home-made Balaclava dessert.