Living with a Techie definitely has its advantages.
My work has intruded in to my home office, where I have less ability to tear myself away and get a breath of fresh air in our beautiful backyard habitat.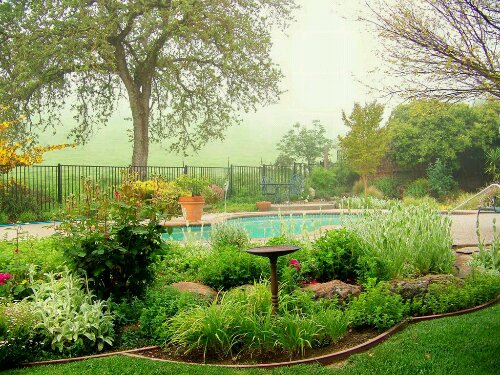 But we are entering a new era!
I get the hand-me-downs when a new tech toy enters our house. The fancy new laptop for him means I have my very own (old technology) laptop to blog on — away from the office setting, nice though it may be. Last weekend this looked like side by side (his and hers!) Facebook sessions in front of the high def TV. Cute, funny or sad? If not for the glare of the sun, I would have an outdoors work option. I am slowly "moving in" to the tiny Sony Vaio, with a saved login here, a stored cookie there.

And then came two Google Droid phones. Two! Which means I got a very cool hand-me-down! Just because I can, I am struggling to compose this with my thumb nails. This blessing was thanks to the recent Google Developer's conference in San Francisco. They wanted their attendees to learn the Droid operating system and start creating cool applications for it, so Dan ended up with both a Verizon and a Sprint model. Our prior SmartPhones are being neglected now. Mine has AT&T and no connection in the house, only on the road. That's one reason the new Droid is so exciting!
But it's Saturday afternoon, play time. Maybe it's time to put away all the techie toys and go smell my roses. Better yet, do something nice to thank my wonderful techie boy for the gifts of both old and new technologies.
Stay tuned for on-the-road blogging from a ski trip to Mammoth Lakes, CA and my week of guiding a Zephyr Adventures skate tour on the bike trails of Nantucket and Martha's Vineyard.