Much to my amazed relief, I really am becoming a "road biker."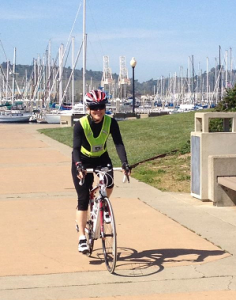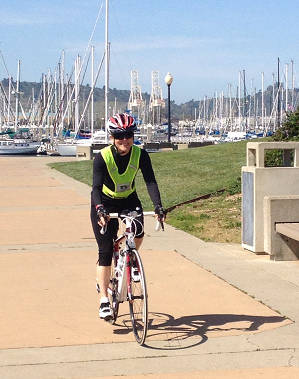 My early season rides with Team Chevron really helped my cycling, both in skill and confidence. We went from 20-mile to 40-mile rides before they cranked it up to serious training on much more demanding terrain. Maybe next year!
Thanks to those group rides, though, I was gently introduced to several popular local routes I now feel comfortable tackling solo: San Ramon Valley Boulevard to Niles, Niles via Calaveras Road (almost) to Ed Levin County Park, SRVB to Cull Canyon (a 40-mile round trip) and bi-weekly SRVB to Walnut Creek Saturday commutes to meet my Tai Chi instructor. According to my bike computer, my average mph and — more important — my max (downhill) speed are creeping up.
I'm almost feeling like one of the big kids! But I still have my amateur moments. I actually got a braking-related blister on my right hand on the downhill return trip on Calaveras, and am still pretty hesitant about banked turns. Today I toppled to the ground at a busy intersection because I was off balance to the left and still clipped in on that side when the light turned green. So embarrassing.
As with the long process of becoming an expert skier and inline skater, I get the occasional "revelation" on my bike. The Liz brain is always churning to keep me learning the way to better biking:
Cliff Blocks are a quick re-builder at the regroup/turnaround points.
A double-dose of sugar-free electrolyte drinks helps keep leg and foot cramps down afterward. (Drinking while in motion is still beyond me.)
On a long descent, squeezing the top bar with my knees made me feel a bit more stable and less prone to braking.
I get a big confidence boost passing others on uphills because using clips (finally mastered those!) and not carrying a lot of body weight are assets.
This week I realized that by focusing on my contact points with the bike rather than the hand I want to stick out, I can make a turn signal! (But I still need lots more practice.)
Today I discovered a Canadian website, www.womenscycling.ca, and signed up for their newsletter and Twitter feed. That should help!
To get in a little cross-training I skated to work last week. Here are my thoughts about biking compared to skating
Skates: "So much friction!" Bike: "Wow, it's just so easy to propel this thing forward."
Pavement quality is an issue for both. Faster rolling makes wheels ride smoother across the rough stuff.
Stance is important to both for good control where wheels meet the pavement.
"Pretend you're relaxed" is good advice for both. When muscles are bunched up, we are less flexible, less bio-mechanically positioned and have less control over the bike and skates.
I didn't get sore after my skating commute, and I am not getting sore from biking. (I am getting sore from Tai Chi practice!)
Leg fatigue has been an issue, though. I always use the stairs at work and I don't think my legs should feel that burned out all the time. So I'm backing off the heavy leg weight lifting two days a week because I think biking, Spin class and Tai Chi have got my legs covered.
We're watching the Tour de France as best we can with the time difference. Are you?