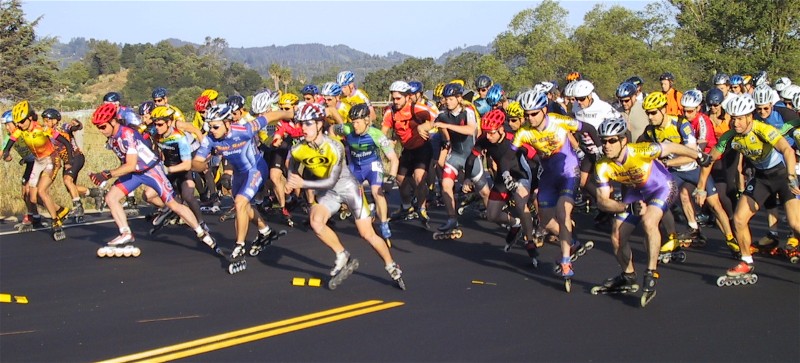 On Father's Day 2003 Liz and I joined one hundred other skaters to celebrate the 10th anniversary of the Calistoga-to-Napa Roadskate.
Just after 7am on this sunny, cool, and clear morning, David Miles—self-proclaimed Godfather of San Francisco skating—unleashed the mob of professional and amateur racers along with a good number of recreational skaters. We all headed south on the Silverado Trail, Napa Valley's alternate North-South route. "D," as everyone calls him, has been tirelessly promoting this event once or twice a year since 1993. Literally a mom-and-pop (and kids) operation, the Miles family manages to put together a fun and efficient event. It's definitely not Duluth or Disney World, but this skate marathon deserves more attention and attendance than it gets.
Starting at the lovely Silver Rose Winery just south of Calistoga, the pack sprinted into the rising sun on new smooth, black asphalt. The California Highway Patrol (CHP) had temporarily closed the first 12.5 miles of Silverado Trail, so we could use the full width of the rolling, winding road. It was really fun to push up the hills and tuck the curving downhills past green vineyards, wineries and fruit stands. Those of us who were more focused on the fun and challenge than winning quickly lost the competitive skaters. Pace lines formed and dissolved as we each tried to find the right pace to make it 26 miles without bonking. Eventually, I picked up Debbie, and a little later, Dave. We worked effectively together to the finish. It's amazing how much more efficient a small pace line can be than a lone skater, especially if there's a little headwind.
The second half of the route was open to traffic. The CHP followed the letter of the law: skaters are pedestrians, not vehicles. They forced us onto the left shoulder of the road, facing oncoming traffic. In a pre-race meeting, some of the racers threatened to rebel and skate on the right, but in the end no one did. Frankly, it was comforting to be able to see the generally-light, oncoming traffic, but skating there was a bit disconcerting in the few spots where the shoulder narrowed down to almost nothing. Perhaps with a larger crowd we might have persuaded the powers-that-be to close the whole route.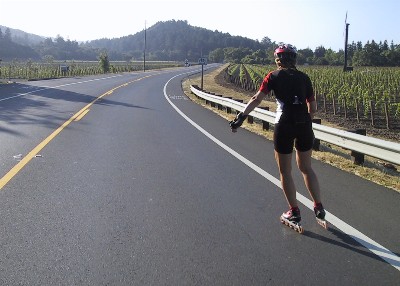 Debbie Kahlie strokes by world-famous Napa vineyards.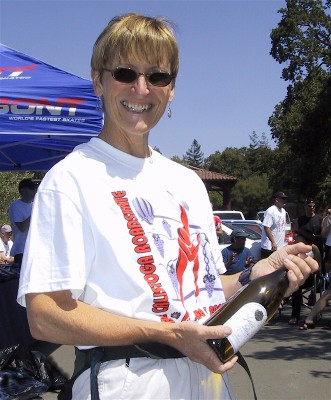 Liz took home a bottle of Silver Rose Chardonnay for the best time in her age group.
The day's winner was 17-year-old Steven Outen who edged out the leading pack with a 1:17:09 time. Kim Perkins was the first woman to cross the finish line at the Luna Vineyards Winery only 8 seconds behind Outen! Liz managed to win her age group but I finished well back in mine. The last of the marathoners came across the line just outside of Napa almost 2 hours after the first finishers did! To me, the most impressive times were those posted by some of the older skaters: Grand Master (age 55-60) Dennis Cummings at 1:20:59, with Immortal (60+) Mario Marcella not far behind at 1:21:10. I guess "immortal"! Everyone we talked to really enjoyed the course.
Volunteers served up a tasty chicken barbeque in the Luna parking lot. It was still pretty early, but hey, we'd burned a lot of calories. An awards ceremony followed with bottles of Silver Rose Chardonnay going to the best finishers in the many categories. Some swag was also passed to categories that "D" created on the fly: last finisher, only skater on quads, left-handed dads with 3 kids, etc.
For the geeks out there: I was fully-instrumented. I had my watch/heart-rate monitor, my digital camera and—new this year—my GPS. My average speed was over 15 mph and I topped out at 27.9 mph. The top finishers averaged more than 20 mph. I saw my heart rate above 160 on some of the climbs. When I was pulling my pace line, I tried to keep it at about 150 bpm. It dropped into the 130s when I was back in the pack. For reference, my anaerobic threshold is in the low 150s.
I have some mixed feelings about the relatively small turnout. On one hand, everyone had a chance for a little glory. It was fun to be able to mingle with the top skaters before and after the race. We ran into many people we knew and several who knew us from from Liz's books and this web site. On the other hand, this is a world-class venue, just begging for a chance to take its place with the Athens-to-Atlanta in Georgia, Northshore Marathon in Duluth, Minnesota, and the new Disney Marathon in Florida. The biggest thing I saw missing was community involvement. Miles was able to get the CHP and a couple of local wineries involved, but we seemed to be ignored by the general Napa Valley community. The potential is there, though. As small this event was, it brought to Napa nearly 200 skaters, friends, and family members who would not otherwise have been there on this shoulder season weekend. We stayed in hotels, ate in restaurants and drank wine. What if there were 2,000 of us instead?
Afterwards, doing a little wine tasting at Rombauer Vineyards, we learned that Mr. Rombauer used to encourage his staff to go to the bottom of the hill and cheer the skaters on. More of that attitude would go a long way for this event. By the way, we highly recommend a stop at Rombauer. The staff was very friendly and knowledgeable, the wine was great (be sure to try the Merlot) and the grounds lovely. If you have the time, pack a lunch to enjoy at one of secluded picnic tables.
How about you? Are you ready to skate 25 rolling miles through wine country? A strong intermediate skater should have no problem finishing the course. If you are in good shape and can skate two hours or more without being completely wasted, think about joining us next time. There are some hills, but they are moderate. Most of our group tucked them, but if you can use a heel brake, you should be able to control your speed with no problem. And there is no age that's wrong for a marathon. This year's participants ranged from their teens to their seventies! So if you've never skated a marathon give it a try. (The only problem is you might get hooked!) And if you are a marathon skater who's missed this roll through the wine country, then what are you waiting for?
Whether you can push the lead pack or bring up the rear, the Calistoga Roadskate is a beautiful, fun course. Unlike many other marathons, this is not an all-consuming weekend. But think where you'll be. Do you really need (or want) event-filled days when you are surrounded by the bounties of Napa Valley?