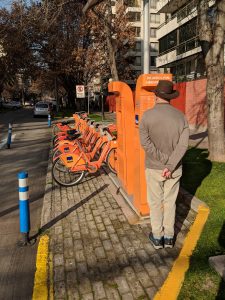 We arrived in Santiago, Chile yesterday morning but our skis and luggage didn't make it due to a tight connection in Dallas. However we were welcomed with open arms by our kind hostess Julia Romero, who is charging us a modest amount to use her spare bedroom for 5 weeks. Now that we're here, I realize we are using her own master bedroom, which she totally cleared out to accommodate us! This isn't something she does regularly, but it happened because of a connection involving one of my co-workers' parents.
Unfortunately, the language barrier is a more  immediate problem then expected, because Julia does not speak English. (Thank goodness for Google Translator!) Day to day communications as we get settled are a daunting prospect for Dan, and even me at my current level. He is feeling a bit down after seeing how difficult the logistics are to go skiing from here, a significant challenge even in a good snow year.
Yesterday was a gorgeous winter day in Santiago. We took the opportunity to stroll the neighborhood, first with Julia and later on our own. We found grocery stores, coffee shops, a dedicated bike path right out the front door, and people going about their daily lives.
The challenge as I see it: Establish a daily routine of exercise and mealtime activities mixed with learning better Spanish and how to live like retired folks. And on the side, of course we can plan excursions.
I have already done a 15-minute workout in the stairwell this morning, going up to the 7th floor and down at various speeds. But with no other clothes to wear, I don't want to get too sweaty.
After our luggage arrives, our To Do list today includes charging the Bip! metro card, visiting a ski shop and researching the two nearest gyms.