It's getting to be that time of year again.
A few years back, I purchased a ProFitter 3D Trainer because it would allow me to work on building strength and balance along with my cardiovascular fitness. This is an ideal sport-specific workout that's perfect for when the weather is too ugly to train outdoors.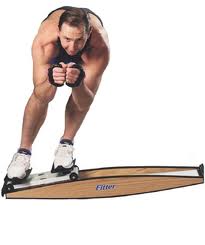 For skating, the slide board-like action reinforces the  side-directed push that's key to stroke quality. This directly works the  muscles that deliver  efficient, powerful strides.
The side-to-side repetitions also build strength in my lower body for alpine skiing, my favorite winter sport. I can tailor the slide resistance by changing the configuration of four sets of bungee cords on the bottom side  to create more tension (to build muscular strength) or reduce the tension (which requires more balance).
Check out this video clip of me using the ProFitter 3D Trainer. (Requires Quicktime). In this clip I am in an upright stance with my weight centered while my feet float back and forth. This method strengthens my core muscles (great for skiing moguls!). It is also possible to move the entire body back and forth to focus more on lower body strength.
Thanks to its portability, I can easily store the ProFitter behind my office door when I'm not using it. When I'm ready for a workout, I set it up wherever the view out the window is prettiest. When an outdoors workout is possible, it's great to put some stimulating music in my ears and get a quick half-hour workout on the deck overlooking my garden and the cow pasture out back.
Using this device is a little noisy and takes a bit of practice. And yes, at $599, the price is a bit steep. But for me, the opportunity to cross train specifically for my two favorite sports while building strength, balance and endurance—in the comfort of my own home—makes it totally worth the investment.
Tags: cross training, off-season workouts, pro fitter, skate to ski, work out