From Liz, Dan and Don
Despite lockdowns and pandemic surges, 2021 turned out to be a year of reconnecting to family and friends, thanks to having an RV. In addition to two multi-week road trips, we regularly used Sally (salir in Spanish means to go out) to transport our bikes or paddleboards to fun locations in the Bay Area and as our own portable bistro. In early December, we spent two weeks in Baja California for adventures on and in the Sea of Cortez. And on the home front, we finally installed a beautifully designed front yard with California native (drought tolerant) plants, just in time for the rainy (fingers crossed!) season.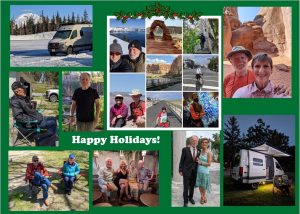 See my annual holiday letter and enjoy our year in photo albums from 2021, all listed here.