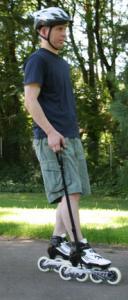 The Flex Brake is a new approach to inline braking and speed control currently seeking funding through "Kick Starter." When they reach a certain number of  pre-orders they'll be able to go into production. Meanwhile, an adventurous few are already testing early prototypes.
I took a look at the Flex Brake video and Kickstarter page and then noncommittally shared links with my skate network. I avoided voicing my concerns about the design because I am not a tester and I did not want to negatively impact the company's prospects for success.
What bothers me? Today I shared these three points in an email with Paul Kimelman,  a former student of mine who suggested I take a look at Flex Brake.
The bent forward stance is problematic. I personally suffer from low back pain, so bending forward to reach the brake leashes would literally be a pain. Secondly, that's a dangerous position to be in: the skates may stop, but forces will keep the rest of the body moving dangerously forward, a head plant just waiting to happen!
The need to remember to grab a leash with your hands for an emergency stop also seems like a big deal to me.
The upright solution requires reaching for stuff attached at the waist. Not only is this pretty inelegant but it makes me feel sad to have to fetter a skater's freedom that way.
Here is what Paul told me in his reply:
I only use the brake with the spring-retracting leash (attached at the waist), which I find less inelegant than knee pads and the like. I am not sure what you mean by fettering freedom. With the spring-retracting leash, it is never in your way and you do not even notice it. But, the loops are always easily available (they hang off the retracting part where your hands are).    I agree that having to bend down to reach something at the boot would be unacceptable to me (my back and impacting balance as you say) but the leash is not like that at all. In fact, you have a much more stable stance than with any other braking that I am aware of, since your feet are balanced over your skates normally (vs. one dragging in some way), and it allows for easy "continuous" speed checking on downhill slopes, and turns just like a bike. Even when using the leash to brake, your hands are not held in any particular place – you can have them away from your body, since only pulling upwards affects the braking.
Read Paul's full review and other user testimonials , or pre-order a pair of Flex Brakes on their Facebook page to be among the first to get a set when they are in production.